Traffic Congestion
Traffic Congestion in Hereford City Centre is of major concern to Herefordshire Business Board. That's why most Business Board members were in favour of the transport package that was approved under the previous local authority administration and which included progress towards a Hereford bypass and the building of a southern link road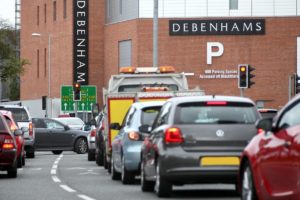 We believed that not only would the package alleviate congestion, it would also attract investment into the city – vital for jobs and skills retention.
Analysis of Gross Value Added (a measure of economic output) per head of population shows that Herefordshire is way behind the rest of the country, having grown by only 54% in the past twenty years compared with 85% for the country as a whole. The Council is yet to publish any comprehensive strategy for economic growth.
As you will know, work was paused on the scheme following the election of a new coalition administration in 2019 to allow a full review to take place. This resulted in a decision being made at the full council meeting held on 2 February 2021 to stop the progress of the scheme.
In its place, the council have identified a number of initiatives which they state will help to ensure the city has the infrastructure that is needed to meet travel needs now and in the future. These include:
Active travel measures – walking and cycling, safer routes to school, low traffic neighbourhoods, transport sharing schemes and mobility hubs
Bus improvements – electrification of the urban bus fleet, school bus services, demand responsive bus services and bus priority measures
Car park management proposals
Eastern link river crossing from Rotherwas to Ledbury Road
Whilst we appreciate that we operate in changing times and understand the pressing need to address the climate emergency, the majority of Herefordshire Business Board members are unconvinced that the new transport package will resolve the city's congestion problems.
That being said, we will continue to lobby for a resolution to the continued traffic congestion businesses (and others) face when trying to travel through the city.
In the meantime, you may be interested to view this website which records the amount of traffic crossing the new bridge –  on average more than 40,000 vehicles every day!
We would be interested to hear your views on the council's proposals.  Please email admin@herefordshirebusinessboard.co.uk with your views.