More than 100,000 visit the Knife Angel, Hereford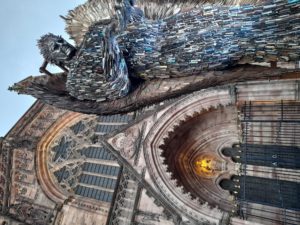 Initial analysis from the Knife Angel Hereford team shows that at least 102,000 people visited the statue during its recent visit to the city.
In addition, more than 700 school children took part in associated workshops to learn about and discuss issues related to violent crime. A further 30 free to attend events were organised for the general public, including sessions about coping with stress after lockdown and bereavement workshops.  The Herefordshire Walking Festival even included a visit to the Knife Angel along two of its routes!
During its four week stay, the Knife Angel became a focal point for visitors to the city. Nearly 200 volunteers were recruited to provide advice and information. These included Samaritans and Vennture team members who were available to offer additional support for those who needed it.
Thousands of photographs were taken of the Angel, including stunning shots from the official photographer, Jon Simpson.
The Knife Angel was free to visit, but nearly £11,000 was donated on site by members of the public. Thanks to their generosity and to grant awards from West Mercia Police and Crime Commissioner, West Mercia Police, The National Lottery Community Fund, High Sheriffs of Herefordshire (2020/1 & 2021/2), Eveson CharitableTrust, Community Safety Partnership and the Clocktower Foundation, the Knife Angel team has gathered a legacy fund of more than £30,000 to continue with its work to raise awareness of the devastating impact of violent crime.
The Knife Angel's visit to Hereford was organised over 18 months by a core team, led by Alison Davies and Meryl Cain. Alison, who lost her own son to knife crime in 2018, says:
"We are thrilled by Hereford's response to the Knife Angel and would like to thank everyone who supported us, volunteered, or visited the statue.
 Many visitors were visibly moved and deeply affected by this stunning work. It certainly helped to stimulate debate and discussion around the subject of violent crime of all sorts and how we can prevent it. That can only be a good thing, and we are now planning how we can continue the debate into the future."
 More than 350 knives and two guns were surrendered to the two Knife Angel amnesty boxes (one located at the Knife Angel site at Hereford Cathedral, the other at Hinton Community Centre). These will now be melted down to produce a commemorative sculpture for the city.
The Knife Angel left Hereford in the early hours of 12 July. It is currently at its home base in The British Ironworks in Oswestry, awaiting its next public appearance in Chelmsford, Essex in the September.
Herefordshire Business Board's Chair, Frank Myers MBE, was a member of the Steering Group supporting the Knife Angel's visit to the city. The Business Board also provided administrative and PR support to the project.
For further information about the Knife Angel's visit to Hereford, please visit the dedicated website.
Posted in News
Herefordshire Business Board tours newly refurbished Rotherwas Shell Store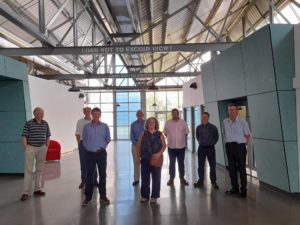 Members of the Herefordshire Business Board recently visited the newly refurbished Shell Store building at Rotherwas, Hereford.
The Shell Store was originally built during the First World War but had become derelict in more recent years. Thanks to funding from the European Regional Development Fund and Herefordshire Council and a loan from the Marches LEP's Marches Investment Fund, it has now been sensitively restored to create more than 2,000 square metres of employment space.
Business Board members were pleased to see that much of the original factory structure is still in place. They toured the 25 business incubation units of various sizes and configurations located within, as well as being shown the café area and other facilities.
Frank Myers MBE, Chairman of the Herefordshire Business Board, said:
"It's been great to tour the facility with Business Board members. The Shell Store is ideal for new and growing businesses, with easy in and out leasing options to suit their needs. It's just the sort of facility Herefordshire needs to encourage new and upcoming businesses to invest and create jobs in the county."
The Shell Store also houses the Marches Growth Hub, the Marches Enterprise Zone team and the Herefordshire and Worcestershire Chamber of Commerce. This means that businesses can access the advice and support they need in order to expand and develop.
It is hoped that the facility will eventually become a focal point for all businesses in the area, providing a space to network and collaborate.
For details of the Shell Store, please visit the dedicated web page.
Posted in News
Hereford receives £22.4 million from Towns' Fund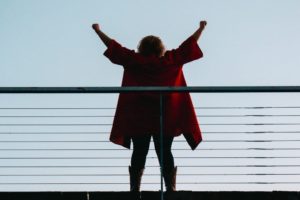 On 8 June 2021, we heard the fantastic news that Hereford had been successful in its bid for funding from the Government's Towns' Fund. A total of £22.4 million has been secured for the development of up to 15 transformational projects included in the city's 'Town's Investment Plan' (TIP).
The projects were submitted after extensive engagement and reflect local and national priorities which address the challenges we face – low social mobility, a debilitating skills gap, deprivation south of the river and the climate crisis.
The news is a huge boost to the city's regeneration and post-Covid recovery and, crucially, opens up a wider conversation with government and independent groups (such as the #StrongerHereford board) on future ways to revitalise Hereford.
The board will now review the shortlisted projects put forward and start developing the business case which will be submitted back to Government for approval. The aim is for projects to be ready for delivery so that once investment is received, work can begin straight away.
Some of the projects put forward are:
The redevelopment of the Maylord Orchard Shopping Centre into a state-of-the-art library, information resource centre and cultural hub
The development of 'Southside' – a new sports, food and skills community focal point for the people of South Wye
Major investment in 'City Zipper' electric buses
The development of a new NMITE Future of Work Skills Hub to help all Hereford residents understand and identify career opportunities, and support them to achieve their ambitions
Improvements to the current Holmer Road skatepark to encourage additional wheeled sports activities
Refurbishment of the Castle Green Pavilion to provide a revitalised home for the Youth Canoe Club, café facilities, a multi-functional and flexible community meeting space and a gallery celebrating local arts and heritage
A new, world-class contemporary museum facility to accommodate Hereford's significant heritage treasures.
Details of all of the projects in the TIP can be accessed through the #StrongerHereford website.
Lauren Rogers, Chair of the #StrongerHereford Board commented:
"After many months of hard work from everyone involved, especially the residents, communities and businesses who put forward project ideas and
worked with us to develop the Town Investment Plan, it's fair to say we are delighted. This funding will deliver a programme of work that will help Hereford become a thriving city that is green, fair, connected, digital and cultural."
Cllr Ellie Chowns, Cabinet member for Environment and Economy, said:
"We are delighted with the announcement that Hereford will receive this funding from the Government's Towns Fund programme. We have already seen some fantastic projects undertaken thanks to the previous Accelerated Towns Fund investment, and this further funding will mean the council and #StrongerHereford Board can now explore and develop the exciting transformational projects included in the city's 'Town's Investment Plan'."
Posted in News
Knife Angel Conference Details Announced
Booking is now open for the Knife Angel Hereford Conference, taking place virtually on Wednesday 9 June from 9.30 am – 4.30 pm.
Entitled: 'Crime in 2021 – From Knowledge to Practice', the conference is being delivered to support the Knife Angel's visit to the city. The Knife Angel 27 foot sculpture, made from more than 100,000 confiscated knives and blades, will arrive in Hereford on 14 June and will be located outside the Hereford Cathedral's West door until 11 July.
The Conference is targeted at professionals who have an interest in current research and thinking in the areas of violence and its consequences in the community. It's free of charge to attend, but donations to the Knife Angel Hereford are welcomed to support legacy workshops in the local community.
Posted in News
Herefordshire Business Board supports Knife Angel visit
Herefordshire Business Board is proud to support the visit of the Knife Angel to Hereford City next summer.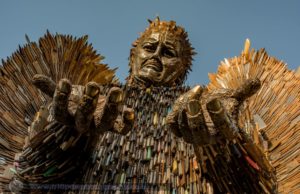 The Knife Angel, otherwise known as the National Monument Against Violence and Aggression, will be hosted by Hereford Cathedral for 28 days from 14 June to 12 July 2021 (revised dates). It is a stunning sculpture standing 27ft high and weighing 3.5 tons that is made entirely from over 100,000 knives received from 43 police forces across the UK. Bringing it to Hereford will raise awareness of the catastrophic impact that violent and drug crime has on individuals, families and communities.
Herefordshire Business Board's Chairman, Frank Myers MBE, is on the Knife Angel Hereford's Steering Committee and Herefordshire Business Board is investing in the community by providing admin support to the Knife Angel Hereford Project Team. The Board believes that the sculpture's visit to Hereford will attract a significant number of tourists to the county, with clear benefits to the local economy.
The Knife Angel Project team (led by Alison Davies – who lost her son to knife crime in 2018 – and Meryl Cain) is looking for sponsors (in kind and cash) and volunteers to help with the Knife Angel's visit to Hereford. Further details are available by Knife Angel Sponsors Brochure – Final  – or please visit the project's website. To express your interest in the project, please email: knifeangelhereford@gmail.com.
The Bishop of Hereford, who Chairs the Knife Angel Hereford's Steering Committee, recorded a Christmas message of support. This can be viewed on the Hereford Cathedral You Tube channel.
Posted in News
New High Sheriff for Herefordshire focuses on 'Preparing Young People for Work'
Herefordshire's new High Sheriff, Tricia Thomas, took up office on 20 March 2020 after a low-key ceremony held in Hereford. Due to the Coronavirus and associated social distancing rules, none of the pomp and ceremony usually associated with the occasion was possible. Nevertheless, Tricia commented at her declaration that she is both delighted and honoured to be appointed to the role.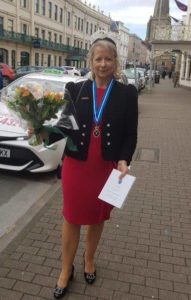 Tricia has been planning the theme for her year in office, 'Preparing Young People for Work', for some time.  As a business owner herself – she runs Leominster based Thomas Panels and Profiles with her husband, Richie and son George – she speaks passionately on the subject and has already started working with Herefordshire Business Board to identify specific projects that will benefit both young people and their future employers.
Tricia says: "The Coronavirus pandemic will undoubtedly mean that my year in office will take a different path to the one I had anticipated. However, prior to the outbreak I had been meeting regularly with the Herefordshire Business Board and together we have developed some exciting plans. I am determined to make use of the opportunity in my Shrieval year to develop young people's skills and look forward to bringing these plans to fruition as soon as circumstances allow."
Frank Myers MBE, Chairman of Herefordshire Business Board, added: "We were delighted when Trish approached us last year with her ideas, as these aligned closely with an initiative which the Business Board was keen to encourage. She was eager to hit the ground running once her term of office began and our working group have spent some time with her in the past twelve months planning to make the most of her initiative. It is, of course, disappointing that this has been put on hold for the time being but we are all poised to support her just as soon as we can."
Tricia can be contacted via hs@highsheriffherefordshire.org. She has also set up a Facebook page (@HighSheriffofHerefordshire) and would be interested to hear from any organisation, charity or individual who would like to know more about or get involved with her Shrieval year ambitions.
Posted in News
Herefordshire Business Board and Signs and Labels Hereford working together to fill a gap in PPE
Extensive media coverage on shortages of Personal Protective Equipment (PPE) for NHS and healthcare workers got Frank Myers MBE, Chair of Herefordshire's Business Board, thinking.
As well as being Chair,  Frank has a background in engineering. Indeed, one of his awards, The Quickcone, earned him a coveted British Design Award. He says: "Like many other people, I was worried about the PPE shortages being reported on the news and this motivated me to try and find ways to help."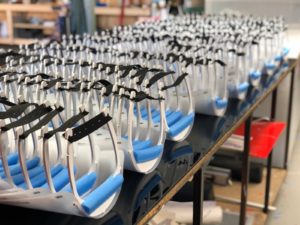 Through his involvement with the Business Board and Marches Local Enterprise Partnership (MLEP), Frank had got to know Herefordshire based company Signs and Labels Hereford Ltd. He knew that the company had recently been awarded a grant from the LEP to purchase a specific piece of machinery that could potentially be repurposed to help the current crisis.
Frank continues: "I approached Signs and Labels Hereford with my idea, and within a week we had secured the materials we needed to make visors for healthcare workers. Signs and Labels Hereford have now manufactured just over 2,000 items, and these have already been delivered to the hospital for use by front line staff."
Laura Hughes, Director at Signs and Labels Hereford says: "When Frank approached us we were more than happy to get to work on putting together a prototype which then led us quickly into production. It's a great opportunity for us to keep our machines running whilst helping our local frontline NHS.
Posted in News
Helping Herefordshire businesses through the Coronavirus crisis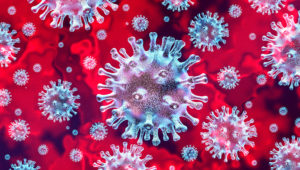 Herefordshire Business Board is working in partnership with Herefordshire Council, the Marches Growth Hub, the Marches Local Enterprise Partnership and many other business-focused organisations to develop a coordinated local response to the Coronavirus pandemic.
We understand that what businesses need most during these extremely difficult times is accurate and relevant advice, support and guidance to enable them to survive and then thrive after the crisis.
For up-to-date local business information, we recommend that you visit the Marches Growth Hub website.
You may also find Herefordshire Council's daily updates to be another useful source of local information.
Click here for the latest national information and guidelines.
Call for volunteers
Herefordshire Business Board is working with Herefordshire Council to coordinate a team of volunteers from the business sector.
The impact of the coronavirus on Herefordshire's businesses will only truly become known over the weeks and months to come.
Economic survival is only one – albeit very important – aspect. There will also be less tangible difficulties caused by the additional stress, anxiety and feelings of social isolation when dealing with the crisis.
Herefordshire Business Board is asking all businesses to consider how they may be able to help.
For example (you may also have your own ideas):
Offers to share resources, raw materials, components, etc or to reconfigure current manufacturing operations to produce urgently required items such as hand sanitisers or personal protective equipment (PPE).
Sharing of vehicles that are currently standing idle, but could be used to support the local effort – for example the distribution of goods to the most vulnerable groups in our society.
Providing details of willing staff who have been furloughed but would be happy to undertake voluntary activities to support local initiatives.
Sharing of ideas, for example suggestions on how to reconfigure services or if you've witnessed a particular situation that could benefit a local employer or service.
Acting as a mentor to support other businesses and to provide a listening ear.
We do not know precisely what will be needed in the weeks and months ahead. At this stage, we're simply putting together a list of offers that may or may not be called upon in the future.
We need all businesses to consider how they may add to this pool of helpers. Please email us with any offers of help. We really need to know as a matter of urgency who would be available, where they are based, have they got vehicles and any other relevant details.
Scam alerts
Unfortunately, there are some who will take advantage of crises such as the current one to exploit and harm businesses and people. With that in mind, we hope you will find this information sheet helpful in alerting you to some of the most common scams: Coronavirus-scam-Alert4528.pdf
Posted in News
Business Board Chair meets Herefordshire Young Professionals
Frank Myers MBE, Chair of Herefordshire Business Board, was delighted to be invited to meet the Young Professionals Group at their January networking meeting.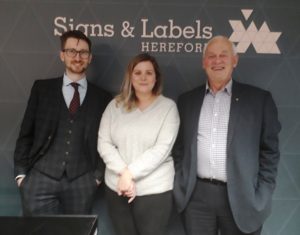 The group of about 40 Young Professionals was hosted by Laura Hughes, Director,  at Signs and Labels Hereford.  A welcome reception of vegan muffins (produced by Vic's Vegan Bakes) and sparkling wine produced at Frank's Wythall Estate in Herefordshire, was followed by a tour of the company's high tech printing facilities.
Frank was then invited to speak about the Herefordshire Business Board's objectives and how the Young Professionals Group could get involved. He was passionate about encouraging Herefordshire's younger business community members to get involved in deciding future business strategy for the county.
The majority of attendees had not previously heard of the Herefordshire Business Board, so this was a great opportunity to raise awareness of its important role for all county businessmen and women.
Posted in News
Road campaigners: People are right behind us
Press release
11th September 2019
Herefordshire's bypass campaigners have been overwhelmed by supportive messages after they invited the public to back their cause.
Business leaders launched a crowd-funded campaign last month after Herefordshire Council called an overnight halt to long-developed plans for a bypass, which would relieve traffic congestion in Hereford itself and improve access to key areas of the wider region.
Now the scheme is under review after years of planning and negotiation. Herefordshire Business Board fears the opportunities which the bypass would bring will be lost forever – together with tens of millions of pounds in Government investment.
A series of advertisements has invited the public to give the board their views and now messages received have demonstrated overwhelming backing for the scheme to go ahead.
Comments ranged from a simple "Yes to bypass: this rethink is a disgrace!" to "This has dragged on for far too long – I implore you to get this sorted to enable business growth and security."
One supporter said: "I have lived in Herefordshire for 50 years and still waiting for the bypass. Sadly I do not come into the city of Hereford any more due to traffic and delays so shop elsewhere."
Another gave this more-detailed analysis: "It has taken 30 or so years for our council to agree that a bypass for Hereford is necessary, during which time the minutia of every possible pro and con must have been debated time and again, to a point where the Council has expended approximately £10 million on preliminary work, only to have second thoughts and the possibility of the project being cancelled.
"Without apparently any previous view one way or another, Councillor Hitchiner has stated that a bypass 'is not a solution', and that it 'often attracts traffic', which I rather thought was the purpose of the exercise.
"If it only reduced traffic in the City by 20 per cent, a bypass would offer quite a large number of people an alternative route in to, out of, or around Hereford which is bordering on the impossible today. thanks to the expected nimby brigade, and years of political infighting."
Frank Myers, chairman of the business board, said: "When you launch a campaign and then ask for pubic support you always hold your breath to see what comes back.
"We were delighted when comments began to arrive. Of course we had a handful which questioned our stance – but the vast majority have been keenly supportive.
"Not only that – they have shown a real appreciation of the issues involved and an understanding that we are in danger of spurning a massive opportunity.
"People realise we need this bypass if we are to create a cleaner environment, attract investment, create jobs, boost wages, care for our old folk and create a future for our youth. It's that important – and people get it."
Posted in News