Skylon Park
---
Skylon Park
Skylon Park is designed to inspire and enable future business growth and success.  The 110 acre site, situated towards the East of the historic city of Hereford, offers flexible plots that allow businesses to develop accommodation that best suits their business requirements. Land is available now for immediate development and occupation.
Key benefits of locating here:
Land available with all necessary services and infrastructure already in place
Incentives available, including simplified and free planning, superfast and ultrafast broadband
Targeted business sectors
Prime location in the heart of the UK – only 1½ hours' drive from Birmingham, Bristol and Cardiff and their respective international airports
Superb quality of life
For further information, visit the dedicated Skylon Park Website.
Hereford Enterprise Zone
Work has now been completed on two of Hereford Enterprise Zone's most significant developments to date:
Herefordshire Cyber Centre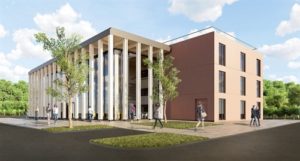 The county has become home to the UK's leading centre of excellence in cyber security – a £9m state-of-the-art hub supporting innovation and industry in the sector. The new Midlands Centre for Cyber Security will act as a 'beacon for excellence' for defence- and security-sector businesses looking to invest on Skylon Park, Hereford Enterprise Zone.
This trail-blazing project is a joint venture between the University of Wolverhampton and Herefordshire Council and part-funded by the Marches Local Enterprise Partnership (LEP) and the European Regional Development Fund (ERDF).
Shell Store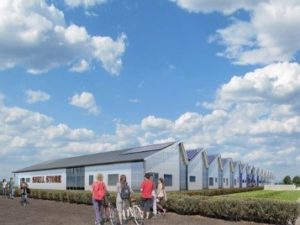 Built during the First World War and used as an ordnance site during the Second World War, this previously derelict building has been renovated to create more than 2,000 sq metres of employment space for new and growing businesses and facilities for development and innovation.
It is anticipated that the Shell Store will provide employment space for up to 25 dynamic and innovative businesses, helping to drive economic growth and the creation of over 100 new jobs by 2023 and more than 450 by 2031.
The project was funded by the European Regional Development Fund (ERDF), Herefordshire Council and a loan from the Marches LEP's Marches Investment Fund.

Contact Details for Skylon Park:
Tel: 01432 383616
Email: info@skylonpark.co.uk
Web: www.skylonpark.co.uk