High Sheriff's Skills Project
Herefordshire Business Board is working closely with Herefordshire's High Sheriff for 2020-21, Tricia Thomas, on her chosen theme for her year in office: Preparing Young People for Work.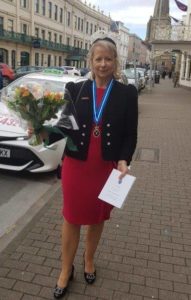 As a business owner herself – she runs Leominster based Thomas Panels and Profiles with her husband, Richie – Tricia speaks passionately on this subject and since taking up office in March 2020 has been working with the Business Board to develop a special careers-focused competition for schools. The competition, which is due for launch in the autumn term of 2020, is entitled 'Just the Job'. It's aimed at year 6 and 7 pupils to get them thinking about the type of job they'd like to do when they are older.
There are some great prizes up for grabs. The winning school will receive an award of £2,000 towards career related teaching support. Each pupil will receive a certificate and there will be vouchers for the best three submissions in both year groups and for each submission option (ie words, video, art). The best entry in each section and age group will receive vouchers of £50. You can find out more in the competition information leaflet.
Tricia says: "I see too many young people unprepared for the world of work. Not all have the basics: being punctual, reliable, willing, positive, listening, speaking calmly, consideration for others, following a process. These traits are POWER skills – having them empowers you – and their importance is increasingly being recognised by employers. They can mean the difference between getting the job, or a promotion; of having their opinion heard, of being happy at work and at home. I have come to realise we need to start early with young people, building confidence, getting them to think about the kind of subjects they like, what kind of skills they already have, what they need, and what they can be in the future. My intention is that the compeition will be a fun, creative and thought provoking project without being a drain on resources."
Further details will be sent to schools in September and the competition closing date will be in January 2021.  It is hoped that a prize giving event will be arranged for March 2021, subject to COVID19 restrictions.