Stronger Towns Fund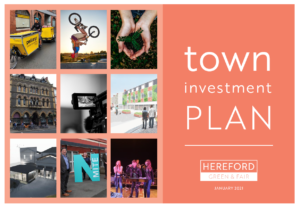 In November 2019, the Government published details of a new £3.6bn Towns Fund. Their stated objective was to "Unleash the full economic potential of over 100 places and level up communities throughout the country." Hereford was one of over 100 places invited to put forward a bid for up to £25 million investment.
An independent Towns Fund Board (called the #StrongerHereford board),  backed by Herefordshire Council, was set up to lead this project.  The Board included a blend of people from private, public and community sectors, all of whom have Herefordshire in their heart. Frank Myers MBE, Chairman of Herefordshire Business Board, is a member of this Board.
There followed an extensive consultation period that included public surveys, open forums and hundreds of 1:1 sessions. Many proposals were received on how the money could be spent to boost skills and learning, the visitor experience and living well locally. The Board had the difficult task of reading each and every one of these proposals before deciding which to shortlist.
These shortlisted projects were compiled into a full Town Investment Plan that is based on a vision for the city based around five long-term themes: 'Greenest, Fairest, Creative, Digital, Connected'. The Plan was submitted to Government at the start of 2021. We are expecting to hear back from Government in the spring.
To read the full Town Investment Plan click here.
For further information about the Towns Fund Board and its work, please visit the dedicated Stronger Hereford website.