Knife Angel Hereford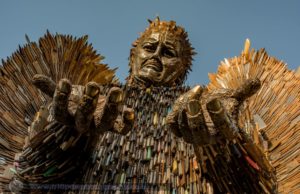 Herefordshire Business Board is supporting a Hereford team to bring the Knife Angel sculpture to the city in June / July 2021. In particular, the Business Board's Chairman, Frank Myers MBE, is on the Knife Angel Hereford's Steering Committee and Herefordshire Business Board is investing in the community by providing admin support to the Knife Angel Hereford Project Team. The Board believes that the sculpture's visit to Hereford will attract a significant number of tourists to the county, with clear benefits to the local economy.
The Knife Angel, otherwise known as the National Monument Against Violence and Aggression, will be sited outside the West Door of Hereford Cathedral for 28 days from 14 June to 12 July 2021. This stunning sculpture stands 27ft high and weighs 3.5 tons and is made entirely from over 100,000 knives received from 43 police forces across the UK. It is hoped that by bringing the sculpture to Hereford it will help to raise awareness of the catastrophic impact that violent and drug crime has on individuals, families and communities.
Further details about the project can be found over on the dedicated website.