Opportunity to join Economy and Place Board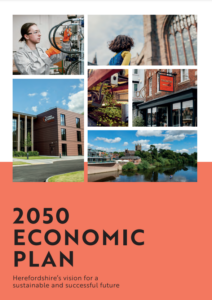 Herefordshire Sustainable Growth Strategy Board (HSGSB) has recently launched Herefordshire's Big Economic Plan and recruitment process to the new Economy and Place Board.  The Big Economic Plan is a partnership document, setting a collective vision for the future growth of the county.  Download the Big Economic Plan
Aim of the planThe Big Economic Plan will enable the county, through collaborative working to meet a shared vision, to address identified challenges and rise to opportunities.
Join the new Economy and Place Partnership boardOne of the key recommendations of the plan is to create a place-focused partnership board consisting of public, private and voluntary sectors, working together to implement the plan and deliver our shared ambitions for the county.    The HSGSB are now recruiting for members of the new partnership in addition to seeking a new independent chair.  The deadline for applications is noon 18 May 2023.
Download Chair and Board Member job descriptions and application details
_____________________________________________________________________________________________________________________________________
The visionIn 2050 Herefordshire is a vibrant, healthy, zero carbon, and inclusive place to live, work, study and visit at all stages of life. Our rural communities, market towns and university city are thriving with high quality employment, housing and services. A high technology, higher value and creative economy has enabled living standards to rise. We have protected our rich natural environment.  ChallengesHerefordshire faces some significant long term economic challenges:
Since 2015 the county's gross value added has declined at almost twice the national rate
Growth in the number of jobs available remains slow
Workplace earnings are almost £5,000 lower than the national average
Opportunities
However, the county also has fantastic opportunities, with excellent quality of life and environment, strengths in further and higher education including one of the first new universities to be established in the country in decades (New Model Institute in Technology and Engineering), a thriving Enterprise Zone, and strengths in areas such as food and drink, tourism, creative industries and cyber security.
We are also well placed to benefit from new opportunities in the green economy, and changing lifestyle choices as people choose to seek an enhanced quality of life while working remotely.
Download Chair and Board Member job descriptions and application details
For any other enquiries, please email
Posted in News