New High Sheriff for Herefordshire focuses on 'Preparing Young People for Work'
Herefordshire's new High Sheriff, Tricia Thomas, took up office on 20 March 2020 after a low-key ceremony held in Hereford. Due to the Coronavirus and associated social distancing rules, none of the pomp and ceremony usually associated with the occasion was possible. Nevertheless, Tricia commented at her declaration that she is both delighted and honoured to be appointed to the role.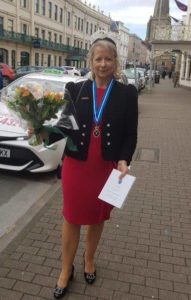 Tricia has been planning the theme for her year in office, 'Preparing Young People for Work', for some time.  As a business owner herself – she runs Leominster based Thomas Panels and Profiles with her husband, Richie and son George – she speaks passionately on the subject and has already started working with Herefordshire Business Board to identify specific projects that will benefit both young people and their future employers.
Tricia says: "The Coronavirus pandemic will undoubtedly mean that my year in office will take a different path to the one I had anticipated. However, prior to the outbreak I had been meeting regularly with the Herefordshire Business Board and together we have developed some exciting plans. I am determined to make use of the opportunity in my Shrieval year to develop young people's skills and look forward to bringing these plans to fruition as soon as circumstances allow."
Frank Myers MBE, Chairman of Herefordshire Business Board, added: "We were delighted when Trish approached us last year with her ideas, as these aligned closely with an initiative which the Business Board was keen to encourage. She was eager to hit the ground running once her term of office began and our working group have spent some time with her in the past twelve months planning to make the most of her initiative. It is, of course, disappointing that this has been put on hold for the time being but we are all poised to support her just as soon as we can."
Tricia can be contacted via hs@highsheriffherefordshire.org. She has also set up a Facebook page (@HighSheriffofHerefordshire) and would be interested to hear from any organisation, charity or individual who would like to know more about or get involved with her Shrieval year ambitions.
Posted in News