Herefordshire Business Board tours newly refurbished Rotherwas Shell Store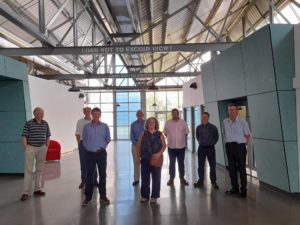 Members of the Herefordshire Business Board recently visited the newly refurbished Shell Store building at Rotherwas, Hereford.
The Shell Store was originally built during the First World War but had become derelict in more recent years. Thanks to funding from the European Regional Development Fund and Herefordshire Council and a loan from the Marches LEP's Marches Investment Fund, it has now been sensitively restored to create more than 2,000 square metres of employment space.
Business Board members were pleased to see that much of the original factory structure is still in place. They toured the 25 business incubation units of various sizes and configurations located within, as well as being shown the café area and other facilities.
Frank Myers MBE, Chairman of the Herefordshire Business Board, said:
"It's been great to tour the facility with Business Board members. The Shell Store is ideal for new and growing businesses, with easy in and out leasing options to suit their needs. It's just the sort of facility Herefordshire needs to encourage new and upcoming businesses to invest and create jobs in the county."
The Shell Store also houses the Marches Growth Hub, the Marches Enterprise Zone team and the Herefordshire and Worcestershire Chamber of Commerce. This means that businesses can access the advice and support they need in order to expand and develop.
It is hoped that the facility will eventually become a focal point for all businesses in the area, providing a space to network and collaborate.
For details of the Shell Store, please visit the dedicated web page.
Posted in News