Herefordshire Business Board and Signs and Labels Hereford working together to fill a gap in PPE
Extensive media coverage on shortages of Personal Protective Equipment (PPE) for NHS and healthcare workers got Frank Myers MBE, Chair of Herefordshire's Business Board, thinking.
As well as being Chair,  Frank has a background in engineering. Indeed, one of his awards, The Quickcone, earned him a coveted British Design Award. He says: "Like many other people, I was worried about the PPE shortages being reported on the news and this motivated me to try and find ways to help."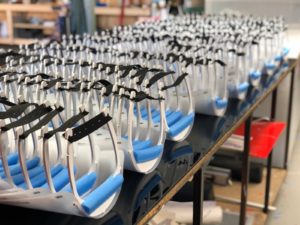 Through his involvement with the Business Board and Marches Local Enterprise Partnership (MLEP), Frank had got to know Herefordshire based company Signs and Labels Hereford Ltd. He knew that the company had recently been awarded a grant from the LEP to purchase a specific piece of machinery that could potentially be repurposed to help the current crisis.
Frank continues: "I approached Signs and Labels Hereford with my idea, and within a week we had secured the materials we needed to make visors for healthcare workers. Signs and Labels Hereford have now manufactured just over 2,000 items, and these have already been delivered to the hospital for use by front line staff."
Laura Hughes, Director at Signs and Labels Hereford says: "When Frank approached us we were more than happy to get to work on putting together a prototype which then led us quickly into production. It's a great opportunity for us to keep our machines running whilst helping our local frontline NHS.
Posted in News