Business Board Chair meets Herefordshire Young Professionals
Frank Myers MBE, Chair of Herefordshire Business Board, was delighted to be invited to meet the Young Professionals Group at their January networking meeting.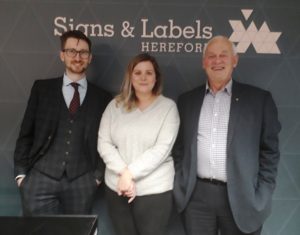 The group of about 40 Young Professionals was hosted by Laura Hughes, Director,  at Signs and Labels Hereford.  A welcome reception of vegan muffins (produced by Vic's Vegan Bakes) and sparkling wine produced at Frank's Wythall Estate in Herefordshire, was followed by a tour of the company's high tech printing facilities.
Frank was then invited to speak about the Herefordshire Business Board's objectives and how the Young Professionals Group could get involved. He was passionate about encouraging Herefordshire's younger business community members to get involved in deciding future business strategy for the county.
The majority of attendees had not previously heard of the Herefordshire Business Board, so this was a great opportunity to raise awareness of its important role for all county businessmen and women.
Posted in News