The Marches Local Enterprise Partnership is looking to recruit two new Board Members, with good local business networks, and ideally at a regional and national level as well, who will play a key role in helping us to drive economic growth in the area and provide effective governance to the public /private Partnership.
An ideal candidate will have commercial acumen, a good understanding of public/private partnership working and the ability to contribute to reaching agreement on complex issues that cut across service delivery of the public, private and voluntary and community sectors.
The Board is seeking individuals who would bring the following skills and experience:
16-18 years skills development / adult workforce skills development
Business and Professional services – IT, finance, marketing
Environmental Technologies sector
This is an exciting opportunity to make a considerable contribution to this Partnership which has moved into a mature phase, having developed an independent office, undertaken restructuring to maximise capacity through the recruitment of appropriate staff and is now geared to the delivery of a full programme of work.
There is no remuneration package associated with the posts however provisions are in place to cover appropriate minimum expenses incurred. The appointment will be for a two-year term and it is estimated that the post will require a commitment of up to two days per month. New members will be appointed by a panel which will be drawn from the Marches LEP stakeholders.
The Marches LEP encourages diversity to maximise achievements, good practice, innovation and impact and we welcome applications from everyone. Females and members of the BME community are currently under-represented on our Board and we therefore reflect a positive action approach, under the Equality Act 2010. Appointment will be on merit alone.
Download the application pack: Marches LEP Board Member Recruitment February 2018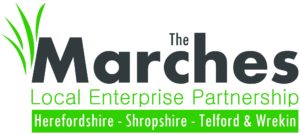 February 21st, 2018 by Rachel
Posted in News